There's a definite categorization in many people's minds when it comes to animals. Often it goes like this: dogs and cats are pets, while chicken, pigs and cows are regarded as food. Why such a disparity between species? It's not because one group is smarter than the other; everyone knows that the vast majority of animals posses a great deal of intelligence. Chickens, for example, understand the concept of object permanence, something human toddlers can't grasp!
Maybe people don't view all animals the same due to their more limited personal exposure to them? After all, people spend day in and day out with their companion animals, snuggling with them, playing with them and staging fantastic pictures of them to go on the annual holiday cards.  Is it merely our proximity that makes most of us downright obsessed with our cats and dogs, but a little more ambivalent when it comes to farm animals?
The answer is, maybe. Between not witnessing the larger than life personalities, staggering intelligence and incredible capacity to love first hand and entire industries launching massive PR campaigns intended on hardwiring our perceptions of these animals as merely food products, it's no wonder that a mental divide has emerged. The fact is, all animals are equally splendid, from the tops of their ears to the tips of their tails. In fact, here are just a few examples of animals commonly found on farms that prove they really don't belong there!
1. It's a little known fact that pigs excel at couch napping, their skills rivaling those of most dogs, cats and dads on football Sunday.
The Dodo
2.We think it's only fair, seeing as how she brought all the boys to the yard, that Milkshake should be able to chill on the sofa for a little while.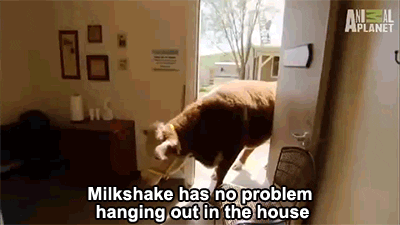 3. C'mon. Just, c'mon.
Cool Animal World
4. Goats take NO prisoners on karaoke night.
Acid Cow
5. Belly rubs are NOT proprietary to dogs and cats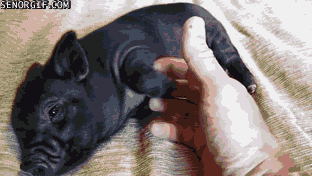 6. This guy clearly thinks he's a lap turkey.
World Truth
7. After he was turned down for the role of Edward Cullen in Twilight, this handsome guy went on to gain a hoof-hold in the hair modeling industry. 
Cool Funny Animals
8. I just want a bite, wait…don't, I JUST WANT TO TASTE IT.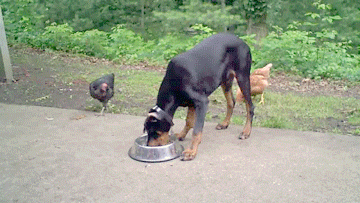 9. Who has a magnificent waddle and loves pie? Well, we don't know your Uncle Sal, so the answer we were going for was these turkeys.
Inhabitat
10. You think Ben Affleck can count cards? Don't take Henrietta to Vegas, that's all we're saying.
Daily Mail
11. Given the right beat, this cow could twerk you right out of the field.
Cool Funny Animals
12. This is the best day of my life!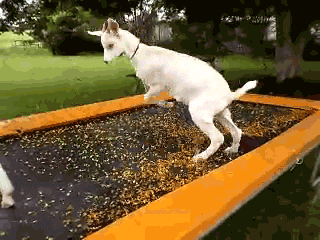 13. Given the opportunity, chickens will take the "mother hen" thing to an entirely new level. 
Backyard Chickens
14. While some animals confuse themselves with cats or dogs, this one seems to be of the opinion that he's a horse.
Funny-Pictures
15. Looks like someone is in desperate need of a yellow card. His game play lately has been ruffling a lot of feathers.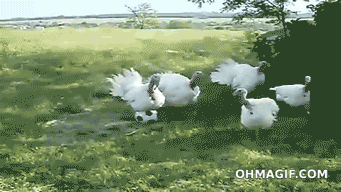 Lead image source: Crazy Website