Danielle Brooks is a bonafide superstar. Not only does she play the beloved, outspoken character of Tasha "Taystee" Jefferson on the hit Netflix television series "Orange is the New Black", but Brooks is also an advocate for justice and equal rights off-screen. This year, in addition to attending the Women's March on Washington, and advocating daily for minorities, the LGBT community, and particularly women of color. We also shared when Brooks made one other amazing announcement: she's been following a plant-based diet — and loving it.
We were curious to see what kind of tasty (get it?) meals Taystee has been making for herself at home and found ourselves drooling over the photo of a vegan dish she shared on her twitter.
"Day 10 of this new Vegan life," Danielle tweeted. "I made Vegan Pad Thai. Feeling pretty solid about this thang!! With onions, carrots, tomatoes, and shallots."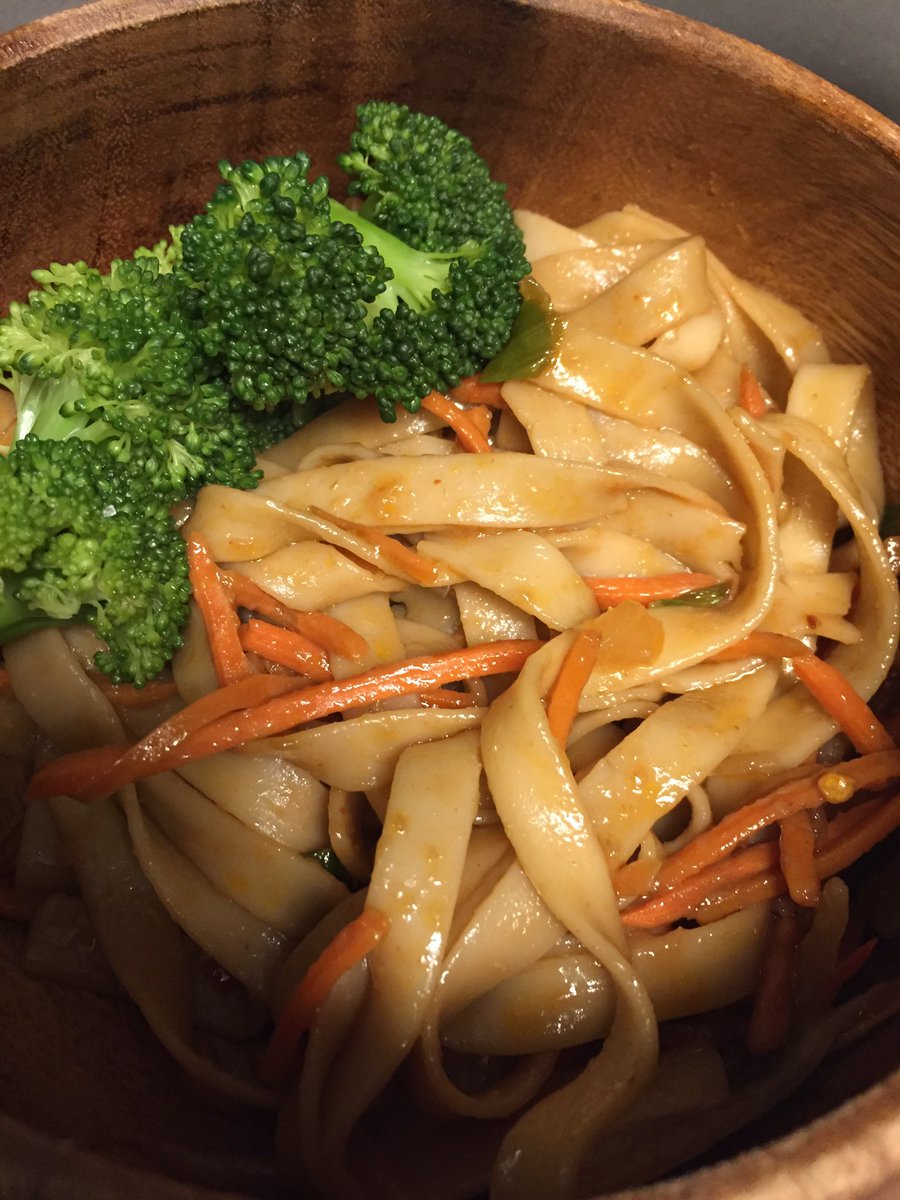 Danielle Brooks/Twitter
Danielle is still in the beginning stages of following a vegan diet, so we wanted to first offer her a warm welcome and hearty congratulations on her decision to go plant-based. Danielle, there is so much flavor to be found in plant-based food, and we're sure you're excited to embark on this journey!
We were curious about what meals Danielle enjoyed before giving up meat and dairy, and found an interview she gave with Coveteur that detailed some of her go-to staples. Many of Danielle's old favorite dishes are traditionally made with animal products, but if you're worried that you have to leave behind your favorite foods when you adopt a plant-based diet, we have great news for you, Taystee — the dishes you love can be all made vegan very easily! We searched through the Food Monster App to compile a list of Danielle's old favorite foods to prove that she can still eat all of her old faves on a plant-based diet.
Danielle, you mentioned that you used to love the sweet potato pie from Ruth's Chris Steakhouse. You don't have to give up Sweet Potato Pie on a plant-based diet!
This vegan version of Sweet Potato Pie by Leah Moldowan steals the spotlight — just check out how gorgeous it is. Top it with pecans and coconut whipped cream to really wow your guests. You definitely won't miss the dairy in this one.
We also know you used to enjoy ordering corn on the Cob and fish tacos from Habana Outpost. You can still enjoy elotes if you're vegan!

This Charred Corn on the Cob With Thai Chili-Lime Mayo by Betsy DiJulio: Blogger, The Blooming Platter, is sure to satisfy any craving you might have for sweet, delicious "elote" (grilled Mexican sweet corn).
They're stuffed with avocado wedges that are fried to a perfect golden crisp, paired with a spicy jalapeño slaw, and topped with a delicious cilantro-lime crema. Yes, please.
And if you like tacos, Danielle, we wouldn't turn our noses up to these Baja Tofu Tacos by Cruelty Free Family. So good!

Tofu is marinated in an umami sauce before being coated with a cornmeal coating and baked until crispy in this recipe. The tofu is then wrapped in a soft tortilla with crunchy cabbage, creamy avocado, and a garlicky lime sauce. Top with Sriracha if you like things spicy.
Finally, Danielle we know you love ordering the tuna melt from Blue Dog Kitchen — and the amazing news is, you can still enjoy plant-based "tuna" dishes!
Is this Chickpea "Tuna" Salad Sandwich not one of the most satisfying plant-based sandwiches you've ever seen? We love how this recipe uses chickpeas with seaweed flakes to give them that scent and taste of the sea.
So what do you think, Danielle? We hope these recipes help get you excited about all the amazing variations on your favorite foods that await you on a plant-based diet.
Is anyone else excited to eat just like Taystee with all these delicious, plant-based alternatives? If you're looking for even more recipes, we highly recommend downloading our Food Monster App, which is available for both Android and iPhone, and can also be found on Instagram and Facebook. The app has more than 8,000 plant-based, allergy-friendly recipes, and subscribers gain access to ten new recipes per day. Check it out!
Lead image source: Orange is the New Black/Facebook