Research by packaging company RAJA found the top 15 countries that are throwing the highest amount of plastic into the oceans. The top three countries are India, China, and Indonesia.
All 15 countries dump the equivalent weight of 2,403 whales' worth of plastic into the ocean. India is responsible for 126.5 million kg of plastic.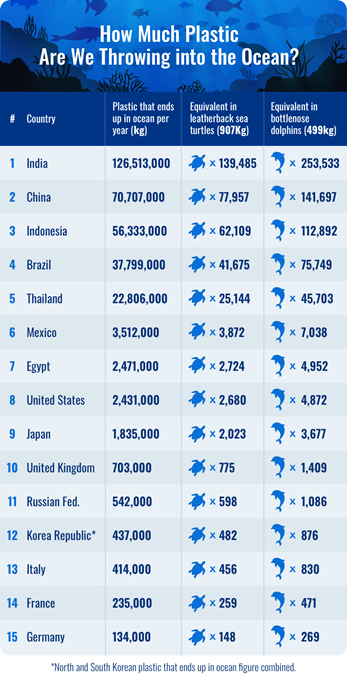 "Over 70.7 million kg of the plastic that ends up in the ocean comes from China. That's the equivalent in weight of nearly 78,000 leatherback sea turtles. With a population of approximately 30,000 nesting females, China is dumping 2.6 times the weight of the country's entire leatherback sea turtle population of plastic into the sea," the research found.
Indonesia, Brazil, and Thailand round out the top five.
Sign this petition to demand that Biden and Congress work together to save our oceans, our marine animals, and our Earth by banning single-use plastics throughout the entire United States!
To learn more about the impact of plastic waste, please read the articles below: 
There are products you may be using or habits you may have that contribute to plastic pollution. Learn more about how the use of Teabags, Cotton Swabs, Laundry, Contact Lenses, Glitter, and Sheet Masks pollute our oceans so you can make more informed decisions going forward. There are also numerous simple actions and switches that can help cut plastic out of our lives including, making your own cosmetics, shampoo, toothpaste, soap, household cleaners, using mason jars, reusable bags/bottles/straws, and avoiding microbeads!
For more Animal, Earth, Life, Vegan Food, Health, and Recipe content published daily, subscribe to the One Green Planet Newsletter! Also, don't forget to download the Food Monster App on iTunes — with over 15,000 delicious recipes it is the largest meatless, vegan, and allergy-friendly recipe resource to help reduce your environmental footprint, save animals and get healthy! Lastly, being publicly-funded gives us a greater chance to continue providing you with high-quality content. Please consider supporting us by donating!
Being publicly-funded gives us a greater chance to continue providing you with high-quality content.
Click here to Support Us