Greta Thunberg should be an inspiration to us all.
This 15-year-old girl from Sweden was so frustrated by both the hottest summer Sweden has ever experienced, and the fact that nobody in power seemed to truly care about her future, that she decided to strike. Greta refused to go to school until Sweden's general election on September 9th, hoping to draw attention to the climate crisis. Since then, she and many others across Sweden have been attending school Monday to Thursday, and striking on Friday, determined to keep protesting until they are heard.
Sweden actually has one of the most progressive climate legislations in the world. They are adopting policies that aim to make Sweden the first fossil-fuel free country in the world. But there was so little climate discussion in the politics spoken about in the lead up to the elections, despite forest fires and the heatwave over the summer, that Greta felt she had to do something to raise awareness.
Greta has been sitting on the steps of the parliament building in Stockholm every day during school hours for coming up on a month now. She was brought up in an environmentally-conscious household, taught to conserve water, turn off lights, and not waste food. She has been researching climate change on her own for more than six years now, and the apparent lack of interest by the adults who are responsible for her future has made Greta want to take a stand.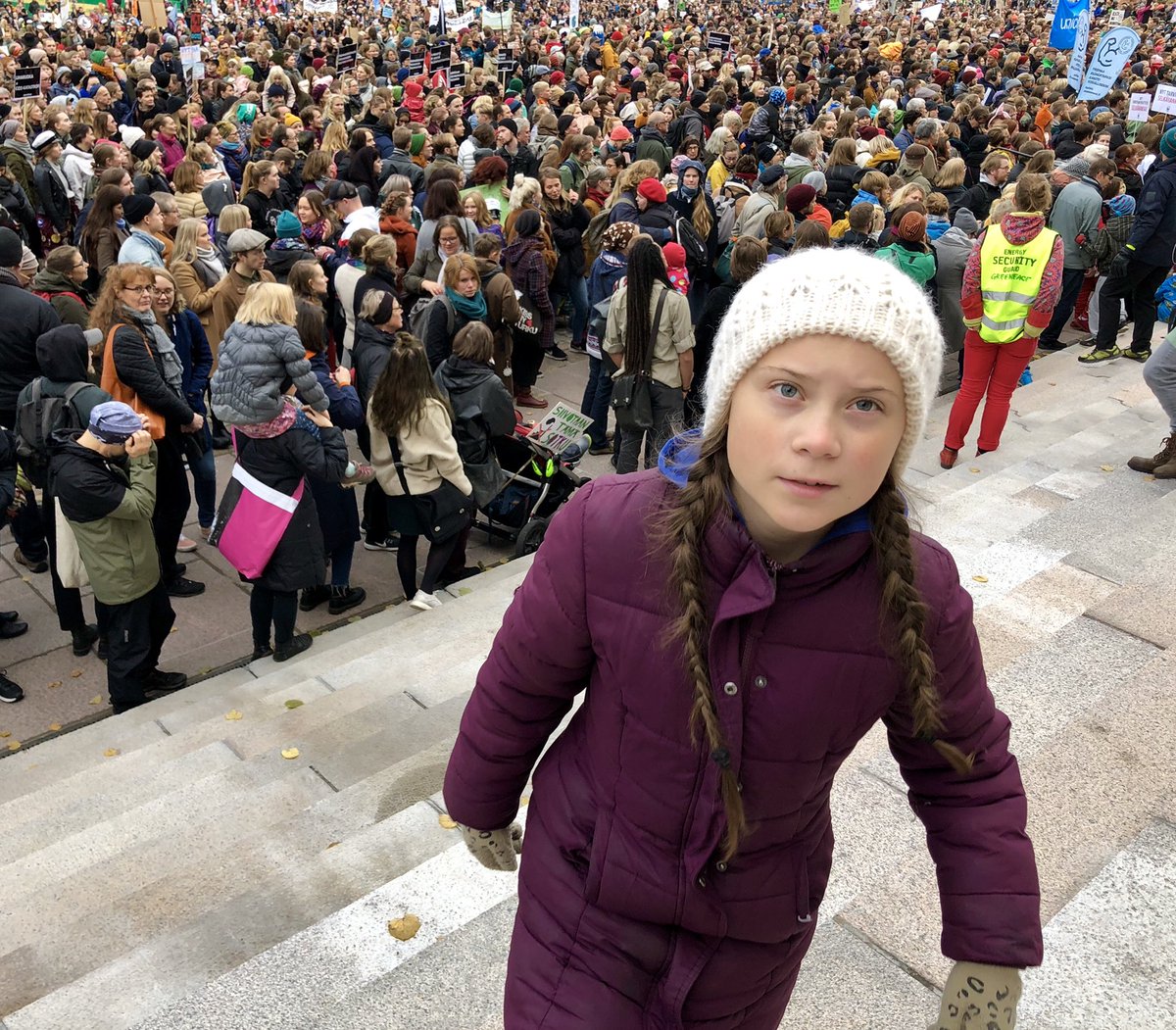 Greta now has more than 11,000 Twitter followers and has been interviewed for both national and international press. She recently addressed a crowd of 10,000 protesters in Helsinki during Finland's largest ever climate demonstration, urging marchers to fight for the changes scientists insist are necessary to avert the looming climate catastrophe. Greta says, "I am doing this because nobody else is doing anything. It is my moral responsibility to do what I can. I want the politicians to prioritize the climate question, focus on the climate and treat it like a crisis."
The courage and determination of this 15-year-old have to be commended. It is young people like her who will make the difference needed to change our world! The latest report from IPCC has detailed just how catastrophic a further 1.5°C global temperature rise will be for us all, and it should be a wake-up call for each and every one of us. As Greta says: "The climate is not going to collapse because some party got the most votes. The politics that's needed to prevent the climate catastrophe — it doesn't exist today. We need to change the system, as if we were in crisis, as if there were a war going on."
If you're inspired to take a stand for the environment, there are many incredible things you can start TODAY! Recycling, conserving energy, and using public transportation are wonderful things to do, but by and large the biggest way you can lower your personal carbon footprint is by cutting meat and dairy from your diet. By eating plant-based, you can literally halve your carbon footprint, save 200,000 gallons of water, and help redirect thousands of tons of grain for human consumption over livestock. To learn more about the environmental impact of our food choices and how to make a difference, check out the Eat For The Planet book! 
Image source: Greta Thunberg/Twitter