When many people think of the most luxurious life imaginable, they imagine the life of a singer or movie star, but can you imagine how life must be for their dogs? One very deserving dog is about to find out.
In a heartbreaking viral video, a man was recorded abandoning his dog in a parking lot. The footage was released by the Royal Society for the Prevention of Cruelty to Animals (RSPCA), and since it's release, the response has been huge. The dog, named Snoop after the famous rapper Snoop Dogg, received an outpouring of support from generous citizen and more than a few celebrities, including none other than the rapper himself.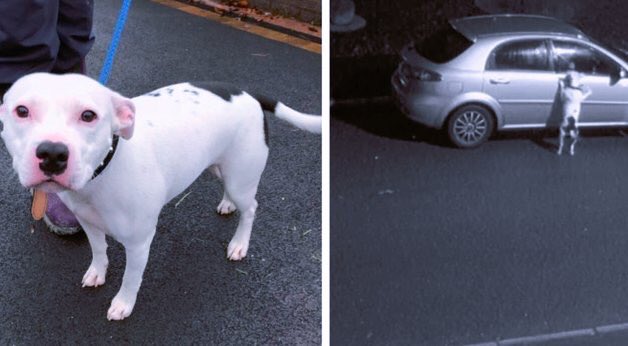 Source: Charlotte Hawkins/Twitter
Snoop Dogg even offered to adopt the pup. "There is always room for another dog in Casa de Snoop," he told The Daily Star.
"If he really needed a home then he has one with us," the rapper said. "But I don't think there is going to be any shortage of loving homes after all the exposure he has got."
Snoop (the dog) is certainly in for a bright future, whether he's in the lap of rat star luxury or not, but most abandoned and neglected dogs don't get Snoop's kind of exposure. There are thousands of dogs with a story just as sad as Snoop's. You don't have to be a rap star to be an animal's hero. Simply doing something kind to help stray dogs find homes can make a world of difference.
Snoop would certainly want you to help his brothers and sisters still out in the cold!
If you enjoy animal rescue stories, check out the Great Dane Who Was Rescued From the Freezing Cold and the 375 Cats Rescued From an Illegal Slaughterhouse. For more awesome Animal, Vegan Food, Health, and Recipe content published daily, don't forget to subscribe to the One Green Planet Newsletter!
Lead Image Source: Royal Society for the Prevention of Cruelty to Animals Instagram