There's nothing more motivating (and appetite-inducing) than picking up a brand new cookbook and thumbing through the vibrant, multicolor pages brimming with new recipes to try — especially when all of the recipes are plant-based and made with accessible, non-intimidating ingredients!
We here at One Green Planet are always hungry for a vast array of different vegan meals to try. Sometimes, we're salivating over "meaty" vegan pasta sauces that provide us with ample protein and umami flavor; other times, all we want to do is craft a block of artisan plant-based cheese and impress our friends with our innovative cooking techniques. But no matter what, we always want to cook delicious food that everyone can enjoy.
That's why we're so excited to present the five vegan cookbooks we've promoted this year; all of them are inventive and exciting in their own right, but when combined, they provide you with every kind of tip and trick you need to master not only the basics of incredible vegan cooking but also some advanced and creative hacks that will keep you entertained and excited about plant-based cuisine. Check out our five favorites below, along with our recommended recipes!
1. Veganize It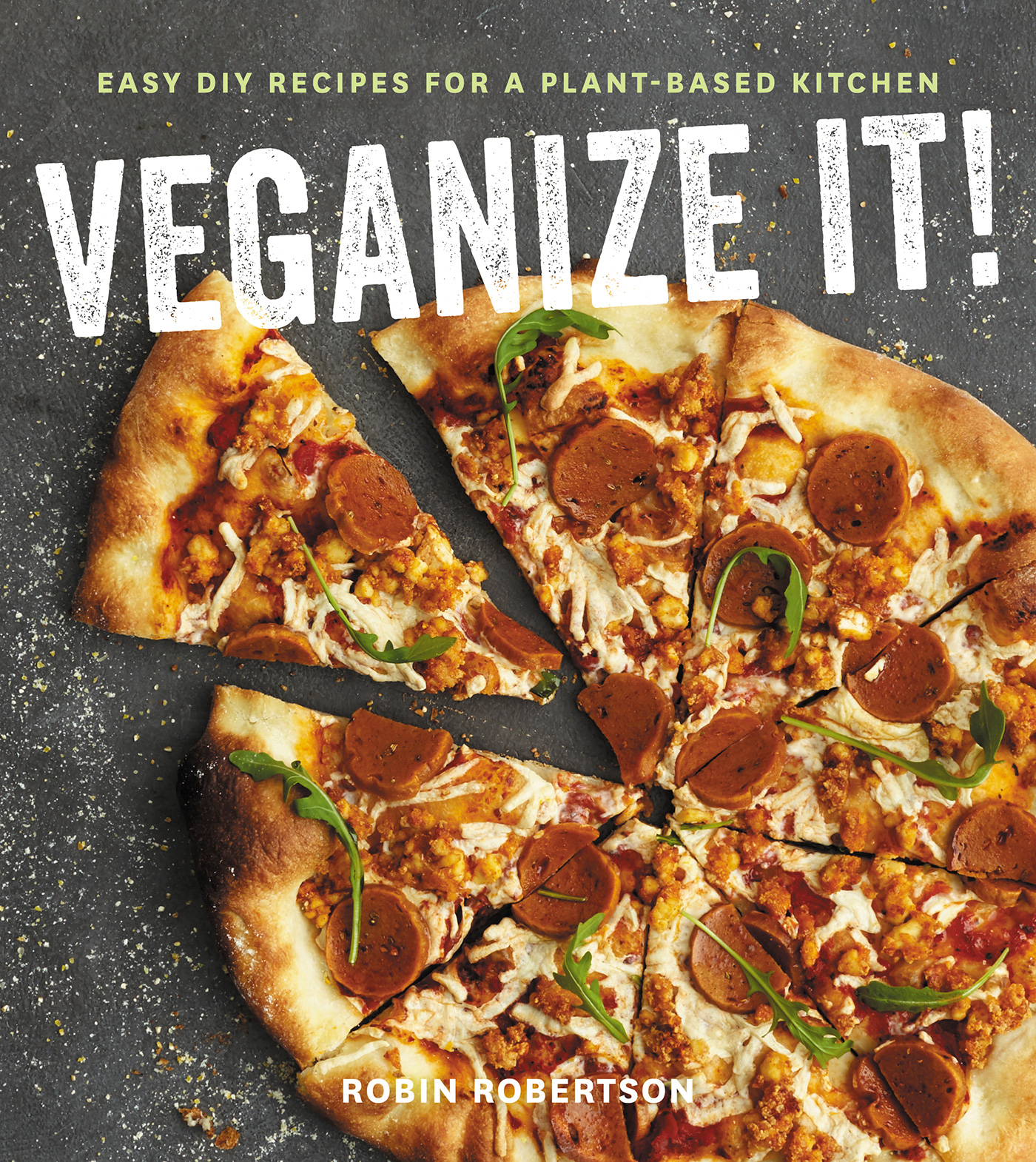 Veganize It is the ultimate DIY pantry book by Robin Robertson, doing double duty with recipes for kitchen staples, plus ideas on how to use them as building blocks in both new and classic recipes. Many cooks prefer to make their own basics from scratch rather than buy expensive store versions, which are often loaded with additives and preservatives. These easy recipes make it easy to stock a home pantry, and this cookbook is an indispensable cookbook for vegans — and everyone else who enjoys food. Check out our top picks below:
If you're interested, you can purchase the book from Amazon for $17.00.
2. Vegan Cheese: Simple, Delicious, Plant-Based Recipes
If you're of the opinion that any recipe could be elevated with the addition of cheese, this is the cookbook for you. Vegan Cheese: Simple, Delicious, Plant-Based Recipes takes the intimidation out of navigating the world of plant-based cheeses, and features 60 dairy-free cheese recipes that range from creamy and mild to sharp and sliceable. Green-lifestyle expert Jules Aron shares the tricks of the trade for making sauces, cheese you can grate or slice, and soft spreadable options, using homemade nut milks, vegetables, and natural helpers like lemon juice, probiotics, agar-agar, and nutritional yeast. Her flavorful creations are enhanced with herbs and spices, and run from incredibly easy to more complex, mimicking familiar cheeses, including:
If you're loving these recipes, you can pick it up from Amazon for $16.96.
3. One Green Planet's GREATEST Plant-Based Recipes from Breakfast to Dessert 
One Green Planet's GREATEST Plant-Based Recipes from Breakfast to Dessert contains 75 plant-based recipes that will be loved by everyone looking to eat plant-based! It is a great gift – whether that be for a loved one or yourself – and proves just how flavorful, satisfying, and easy to make vegan food can be. Plus, it's a great way to start living a healthier and more ethical life, all while enjoying tasty foods. For seasoned vegans and those just beginning their plant-based journey, this cookbook has something for everyone. Here are our favorite feature recipes from the book:
The cookbook is available for only $29.95 in the US and UK (with other locations to follow shortly after.)
4. Aquafabulous: 100+ Egg-Free Vegan Recipes Using Aquafaba
Aquafabulous features more than 100 of author Rebecca Coleman's recipes that incorporate both the exciting new ingredient, Aquafaba, and the beans used to make it. She walks you through her many tips and techniques for sweet and savory cooking and baking. You'll find such recipes as Herbed Nut Cheese, Fluffy Waffles, Falafels with Pesto Mayo, Mac and "Cheese," Lemon Meringue Pie, Whoopie Pies, Pumpkin Spice Doughnuts, Baked Alaska and more. You'll never look at a can of beans — or the challenge of making a vegan dessert — the same way. Here are our favorite feature recipes from the book:
If you want to buy the book from Amazon, it's available for $15.91.
5. Bold Flavored Vegan Cooking: 

Healthy Plant-Based Recipes with a Kick
Bold Flavored Vegan Cooking by Celine Steen, founder of the popular food blog Have Cake Will Travel, embraces dynamic seasoning with umami-rich, meat-free ingredients like dried Shiitake mushrooms, tamari, miso, and matcha. Celine adds new levels of flavor to your favorite dishes with unique combinations of aromatic spices, from Szechuan peppercorn to dried árbol chilis. Her dishes are nothing short of bold and memorable. Just take a browse through our selections below:
if you're inspired, you can always purchase the book from Amazon for $14.95.
So what do you think? Which of these books do you want to try first? Remember, if you finish all of these and decide you're still hungry for more plant-based recipes, we highly recommend you check out our Food Monster App, which is available for both Android and iPhone, and can also be found on Instagram and Facebook. Once you download it, you'll gain immediate access to 500 free recipes. If you upgrade to becoming a subscriber, you'll be able to browse through over 8,000 plant-based, allergy-friendly recipes. Give it a try!
For more Animal, Earth, Life, Vegan Food, Health, and Recipe content published daily, subscribe to the One Green Planet Newsletter! Lastly, being publicly-funded gives us a greater chance to continue providing you with high-quality content. Please consider supporting us by donating!
Being publicly-funded gives us a greater chance to continue providing you with high-quality content.
Click here to Support Us