For many Americans in their local grocery store, a banana is simply a banana: yellow, firm, sweet, and seedless. If you find yourself nodding along and agreeing, the truth is you're only half-right. A Cavendish is actually that particular banana — but there are more varieties out there to discover.
Check out these six different banana varieties below, and learn how to incorporate them into successful vegan dishes.
1. Cavendish
Shubert Ciencia/Flickr
A staggering 95 percent of the bananas sold in American grocery stores are Cavendish bananas. Long and sweet, they go from underripe and green, to firm and yellow, to overripe and brown and mushy. If you're wondering about the exact health benefits of ripe versus underripe bananas, read this feature on Ripe vs. Unripe Bananas: Which are Better for You?
We recommend slicing Cavendish bananas up and using them as a topping for your oats, baking them into Healthy Banana Bread, using them as the base for some nice cream, or eating them right out of their peel.
2. Red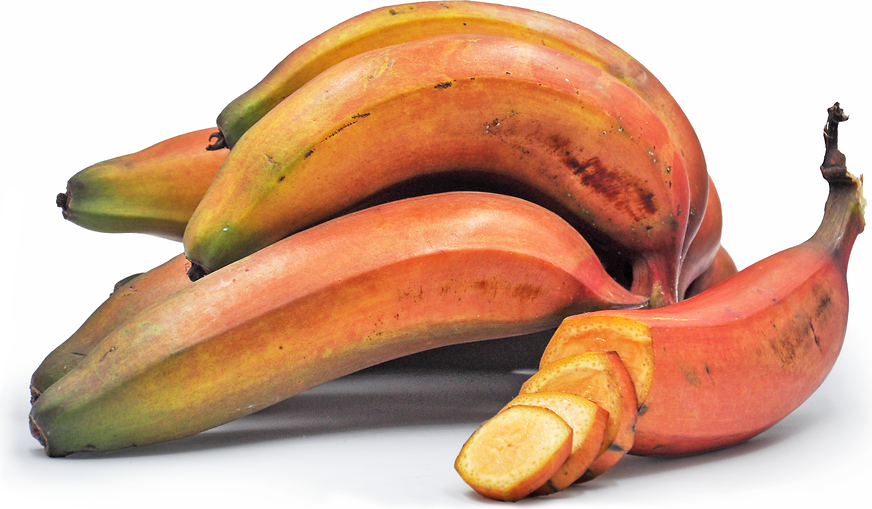 Specialty Produce
Imported from Costa Rica and a favorite in Central America, red bananas are plump, hearty, and short versions of Cavendish bananas, only with even more vitamin C and beta-carotene. Available year-round, red bananas are chalky and dry when immature and underripe, and too starchy to consume. Ripe red bananas will feature a dark magenta peel, semi-soft ivory flesh, and taste sweet and creamy — almost berrylike.
Because of their flavor profile, red bananas make great baking ingredients for sweet and semi-sweet recipes. Try making this Ultimate Banana Chocolate Birthday Cake with red bananas, or this 5-Ingredient Sugar-Free Berry Banana Bread.
3. Pisang Raja
Charles Haynes/Flickr
Popular in Indonesia, Pisang Raja bananas are dense and creamy and known as "dwarf" banana plants, since they only reach about eight to 10 feet when mature (for comparison, Cavendish can reach up to 25 feet high).
These bananas feature sweet, firm, orange flesh that holds up to a frying treatment, which is why they're a great candidate for banana fritters. Try making this recipe for Banana Akaras: Sierra Leone Banana Fritters, or Banana Beignets.
4. Plantain
Native to India, plantains are starchy, low-sugar members of the banana family, and are often used in Western African and Caribbean savory dishes — in fact, some refer to plantains as the pasta and potatoes of Caribbean cookery!
Much like potatoes, plantains aren't suitable to eat raw, but their flavor and texture varies depending on their ripeness level. You should be able to find plantains in the produce aisle of your local grocery store: they look a lot like bananas, only slightly green and larger, while their interiors are creamy and yellowish, or even light pink. When a plantain's peel is greenish or yellow, it will taste bland and starchy, whereas the darker the peel turns (it can reach an almost pitch-black hue when fully ripened), the sweeter and more banana-y the plantain tastes.
Try making these Caramelized Plantains With Coconut Cream, which is the perfect side dish or appetizer. The outsides get crunchy, the insides stay tender, and they're the perfect balance of savory and sweet. This savory recipe for Vegetable Curry With Plantains is full of healthy nutrients from the plantains and veggies, and these Chili Coated Plantain Crisps With Lime Ketchup are great for parties or an afternoon snack. You can also check out These 15 Plantain Recipes.
5. Burro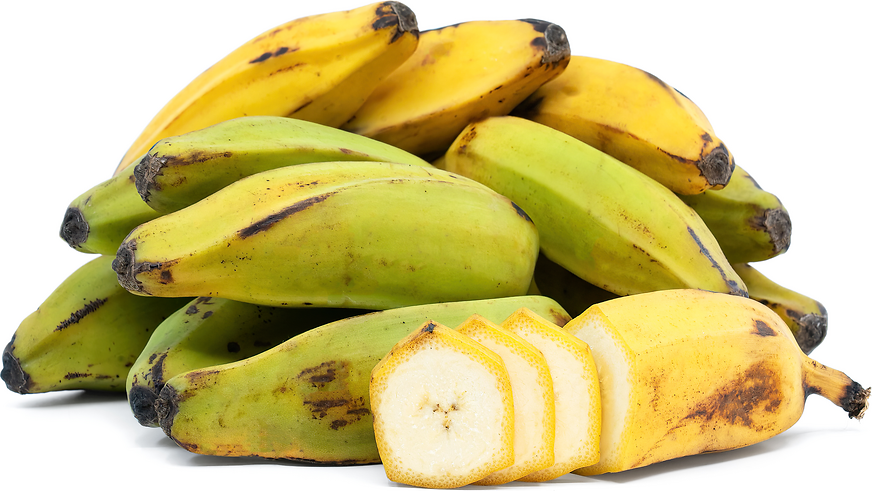 Specialty Produce
Stubby, fat, and semi-square in shape, burro bananas are a tart and tangy species with almost citrus-like notes. When underripe, their peels are a vibrant dark green that darken to a deep, rich yellow hue with spots when ready to be consumed.
Available year round, burro bananas are grown in Mexico and often available at Latin American markets. Their slightly crisped and textured center, along with their sweet-and-sour flavor, makes them a good candidate for savory dishes, and they can be treated much like a plantain when underripe (although if you want to eat it from the peel, take care to allow it to fully ripen).
Swap in burros for plantains in this recipe for Cuban Lentil Soup With Baked Plantains and Lemon Crema, or do the same in this recipe for Mangu: Dominican Mashed Plantains.
6. Apple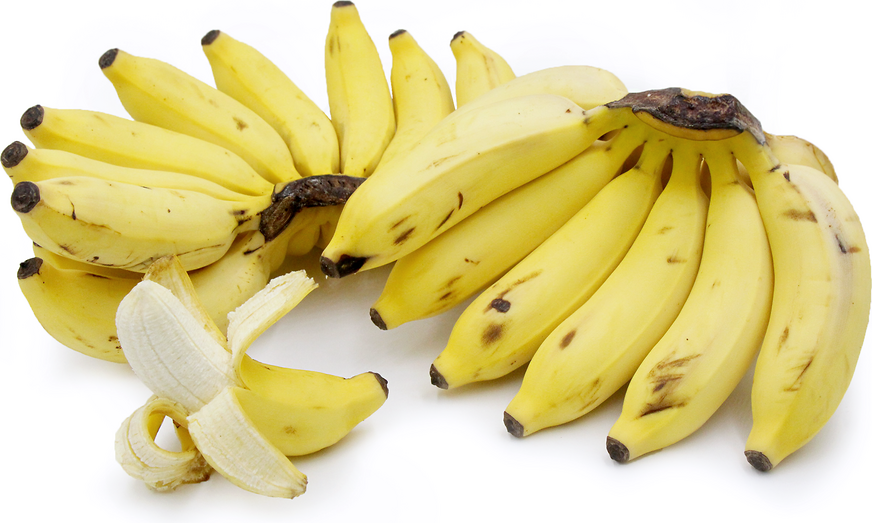 Specialty Produce
Named after French missionary Claude Letoundal from India, apple bananas were introduced to the Philippines by Letoundal, and they remain the most popular banana grown there today. Aptly named, apple bananas are stout and plump and give off a distinctly apple-like and tart aroma.
When ripe, their flesh is tender and creamy, and they develop a tropical flavor the longer they ripen. Available year-round, apple bananas are native to Central and South America, and are particularly delicious in sweet, tropical recipes.
Sub them in for Cavendish bananas in this recipe for Chocolate Banana Squares, or in this recipe for Apple-Banana Breakfast Tortillas, which really highlights their apply aroma.
Remember to fall in love with bananas all over again with these 15 Banana-Based Products by downloading the Food Monster App, which is available for both Android and iPhone, and can also be found on Instagram and Facebook. The app has more than 10,000 plant-based, allergy-friendly recipes, and subscribers gain access to ten new recipes per day. Check it out!
Lead image source: Ian Ransley/Flickr
Help keep One Green Planet free and independent! Together we can ensure our platform remains a hub for empowering ideas committed to fighting for a sustainable, healthy, and compassionate world. Please support us in keeping our mission strong.