Eating vegan/plant-based is pretty awesome. You have a rainbow of foods to choose from, all of them delicious, that you can make healthy and inventive meals with. Not only that, you don't have to worry about your lunch causing needless suffering for an animal or your dinner putting huge amounts of strain on the environment. Really, it's a pretty sweet deal.
With the growing awareness of how tasty it is and society embracing plant-based diets like they never have before, it's only getting easier and more fun as time goes on. Suddenly there are vegan food trucks, best selling cookbooks and options at mainstream restaurants sprouting up all over the place. That doesn't mean that there aren't still those moments when a misconception or flat out obnoxious comment doesn't send your eyebrows soaring up into your hairline.
Let's face it, there are definitely high points and low points in your day when you're a dedicated plant-based eater. Mostly, people are accepting and even interested when you choose the kale salad over the cheeseburger during happy hour but there are still those moments when some of your friends can be, shall we say, annoying. Here are 25 facial expressions that anyone who keeps animals out of their diets have donned at least once in their lives. Probably some much more than others.
1. When you get yet another new recipe for vegan mac and cheese
2. The ingredients list on the back of those cinnamon rolls doesn't have a single animal ingredient.
YouTube
3. When you find out that the restaurant your friends picked has an awesome vegan option.
Wikia
4. Or, when it doesn't.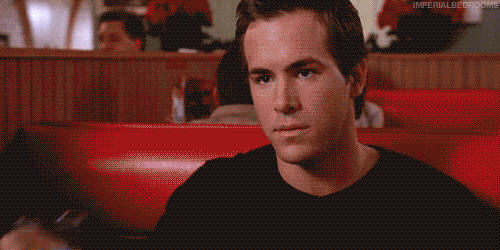 5. When you found out you could make whipped cream out of coconut milk
People
6. "You're a vegetarian, huh? Do you eat chicken?"
Inappropriate Robot
7. After the first bite of a truly awesome, dairy-free cheesecake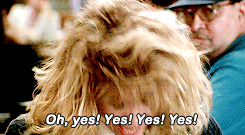 8. When everyone is afraid to try the vegan cupcakes that Cindy brought to the office potluck
Flickr
9. When someone says, "Meat is murder…tasty murder."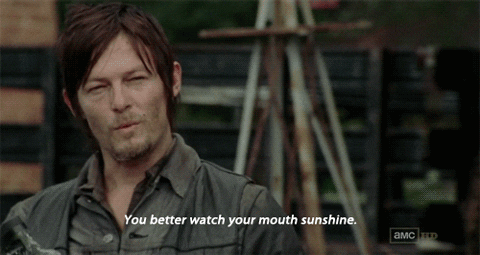 10. When the vegan entrée at the wedding reception looks better than all of the other choices at the table
Vimeo
11. That new cookbook you wanted just came out
Beamly
12. Your friends go out of their way to make sure your birthday cake is vegan
Tumblr
13. "I only buy grass-fed beef, so it's a humane burger."
Quora
14. When you're just finishing your entree and you discover a piece of meat in the bottom of the bowl.
Page Lady
15. "I love bacon. I love it, I love it, I love it. Bacon is my life, I put it on eeeeeverything."
16. When that same person is cooking bacon within smelling range
Real TV Chat
17. "Plants feel pain too, you know."
Tumblr
18. "If everyone stopped eating meat, cows would overrun the earth."
HBO
19. "I'd totally be vegan but I can't give up cheese. Like, I neeeed it."
20. When you found out what kind of gross stuff is in dairy
21. Any mention of protein.
Tripod
22. "Eating a burger has nothing to do with the environment."
Photobucket
23. "I was vegan but it made all my hair fall out and I almost died. Humans need meat."
Tumblr
24. Kale goes on special at the grocery store.
Dailymail
25. When you realize that your eating habits saved 100 animals in a year.
BONUS Recommendation: Download the Food Monster App
If you enjoy articles and recipes like these and want more, we highly recommend downloading the Food Monster App. For those that don't have it, it's a brilliant food app available for both Android and iPhone. It's a great resource for anyone looking to cut out or reduce allergens like meat, dairy, soy, gluten, eggs, grains, and more find awesome recipes, cooking tips, articles, product recommendations and how-tos. The app shows you how having diet/health/food preferences can be full of delicious abundance rather than restrictions.
The Food Monster app has over 8k recipes and 500 are free. To access the rest, you have to pay a subscription fee but it's totally worth it because not only do you get instant access to 8k+ recipes, you get 10 NEW recipes every day! You can also make meal plans, add bookmarks, read feature stories, and browse recipes across hundreds of categories like diet, cuisine, meal type, occasion, ingredient, popular, seasonal, and so much more!
Lead Image Credit: HBO