Sometimes life can be a giant Debbie downer for animal lovers.
From the frustration of knowing that Keystone XL is threatening a ton of species, to crying in your room because your apartment doesn't allow cats (we know we're not the only ones!), we've got the cure. Though you might not believe it at first, there are a ton of people doing amazing things for animals, and, what's even more amazing, it's been caught on video. So, hold on to your embarrassing stuffed animal collection, and be prepared to feel all warm and tingly inside.
1. The way this mother elephant rooarr-ah-ah-ooaars (thanks, Katy Perry) after being reunited with her baby.
A rescue team from the Amboseli Trust for Elephants (ATE) received an early morning report that a baby elephant was trapped in a deep hole. If the baby stayed there too long, their mother would move on with the herd, leaving the baby susceptible to predators or poachers. Watch the ATE spring into action and listen to one of their hilarious team members narrate the whole thing with her wonderful accent. ATE, you dah real MVP.
2. How these rescued cows and sheep at Farm Sanctuary gallop to the pasture like people in an office where free food is announced.
LOOK OUT! Clumsy cows running! Get the heck out of the way! Seriously, these cows mean business when it's their first day out to pasture after a long, grueling winter. The cows at Farm Sanctuary were all rescued from horrible conditions either on small farms where they had been neglected or on large factory dairy or beef farms. So, yeah, don't even think about getting between these cows and their grass. We've heard they can mistake people's hair for a yummy treat.
"Moo-ve over! Baaa-ck up!"
3. The way these chimps grin and bear hug/tackle each other when they realize what "outside" is.
Michael Aufhauser, a European conservationist, started a $4.6 million sanctuary in Austria, and then helped release these chimpanzees, who underwent cruel HIV experiments. Some of them had been in captivity for 30 years. Watching these chimpanzees experience fresh air for the first time is hands down one of the most beautiful things you will ever witness in your life. Seriously, tissues at the ready, people, this is not a drill!
Let's just see those smiles one more time! *Cries and hugs pillow* Bravo, Michael.
4. When this whale whips his hair back and forth to thank some people for saving him from being caught in a net.
Michael Fishback, co-founder of the Great Whale Conservancy, came upon a humpback whale in the wild with his family. We just love how when he points this out, he says it like it's a totally normal everyday occurrence. Like, what? Dude, it's a WHALE. That's a bucket-list worthy experience. Watch Fishback and his family work like pros, and then get an amazing "thanks!" from the whale.
Nemo: "Thaaaank yooouu, siiirr!" Dori: "Man, I wish I could speak whale."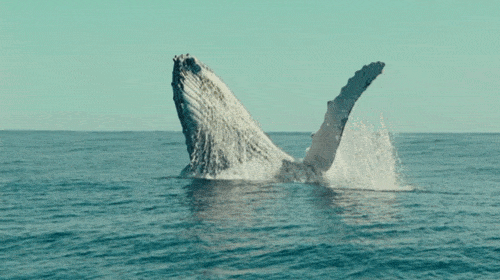 5. These Beagles who lose their sh*t when they see grass and sunshine after spending their entire lives in cages.
The Beagle Freedom Project (BFP) works to free Beagles from laboratories, which use the dogs for medical and pharmaceutical testing. In this video, they rescued nine beagles from a laboratory in Nevada. The beagles had never been outside in the sun or felt grass. But thanks to the amazing people at BFP, they will start new lives full of love!
How could you test on this face?! Beagle Freedom Project, you guys are the bomb.