Your mom loves you. She does. She may express it by demanding that you eat your vegetables and by putting a curfew on your tablet, but it's done with your best interests at heart. Think of it as professionally annoying you with her affection. If she's getting under your skin, at least a little, she's doing her job.
Funnily enough, we humans don't hold the exclusive rights to the exasperating mom story. Elephant moms are right up there on the awards podium for the mom-lympics. Found to have extremely strong maternal bonds, momma and baby elephants are nearly inseparable for the first years of a calf's life. They fuss over their babies, let them suckle on demand, and generally cater to their young one's every whim. Which isn't to say that they don't whip them back into shape when they step out of line or try and keep them on the straight and narrow should they stray.
The bonds mother elephants have with their offspring are so strong that, in the case of female offspring, they can remain together their entire lives. Kinda puts how irritated you were about your mom calling at 7:43 this morning to hear how your job interview went yesterday into perspective, right? Face it, if elephants are anything to go by, mom behavior is universal. Just look at these examples:
1. She is not amused by your tantrum 2. Your boredom is not a deterrent to catching up with Carol when she bumps into her in the coffee aisle at Kroger.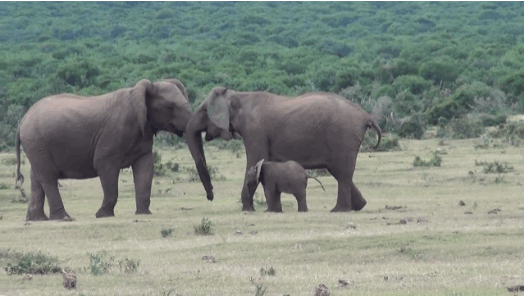 3. Believe it or not, "mom-ing" is her side hustle. Saving your butt is her full-time gig.
4. You thought she was bluffing when she said she'd walk out of Target if you acted up. You thought wrong.
5. Bath time is over when she says so. Your shampoo-on-the-wall Mona Lisa finger paint masterpiece is gonna have to wait.
6. You wanna spend the night? Will Jenny's mom be home? What's her number? Find out. You can't? I don't think Jenny is real. Which one is she? That one? Is that her mom with her? Bring her over here.
7. Eat your greens. She just knows, that's why.
8. It's time for school. Just go or she's gonna drive you there herself and walk you into your first class with her "Mrs. Ashton Kutcher" shirt on from the 90s.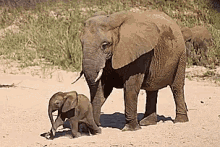 9. Clean your room. Excuse me? Don't you make me start counting? One … two … that's what I thought.

10. She always has your back. Even when you're being a sassy pants, you're HER sassy pants.
Click HERE for more elephant goodness as well as for info on all of the other incredible animals whose moms probably get way up in their business because they care and want nothing more than to see them live their best lives as responsible members of the community.
Lead image source: Pixabay