Ever wanted to feel happiness from eating food? Now I'm not suggesting that you necessarily eat your feelings, but as I sit here typing this post eating my 5th, no 6th, Larabar piece of the evening I realize that yes, food truly fills me with joy.
I'm ok with this.
Also making my own larabar makes me pretty enthused, I must say.
And I'm even more ok with this.
Ever since I got my food processor, I've been on a kick of making new and weird Larabar flavors. All to which I have immensely enjoyed. I have so many flavor ideas in my head for future recipes, I cannot wait to create! Ah, but in time…
I was on the hunt to produce another Larabar creation and thought that mocha chip would be a nice addition to my other Larabar recipes. This is a tad bit different than the original cappuccino Larabar, as the cocoa powder and chocolate chips really set it apart and create flavors that make you smile.
You know how the taste of coffee is pretty addicting? Oh and chocolate too? How about them combined with some added vanilla? Yes, please! After eating my third one, I decided that making these were one of the better decisions I made this week.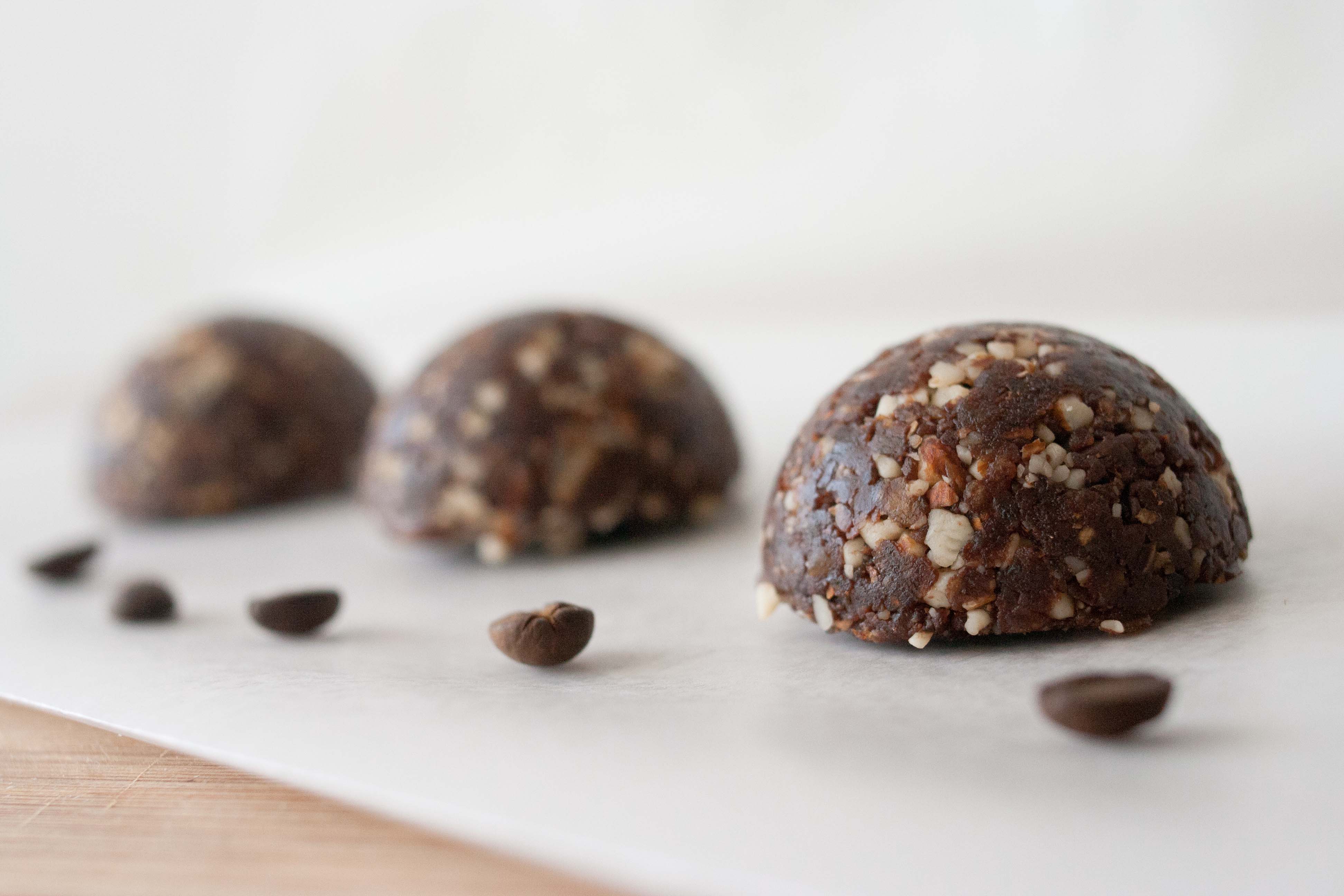 This recipe came with a bit of trial and error for me. At first I added too much coffee and chocolate (never enough chocolate, I know) and not enough vanilla, which led me to becoming a lunatic and running to the store like the world was going to end tomorrow if I didn't get more dates, nuts, and cocoa powder immediately. With a satisfying second batch, in the end it was definitely worth it and with each bite I regained some of my sanity back.
You can probably use only one type of nut if that's all you have on hand, I just chose the almond/walnut combo as the texture is slightly more preferable to me. The original cappuccino Larabar is made with cashews and almonds I believe, so really any nut combo should work.
I decided to use decaf instant coffee, but if you want an extra little kick of caffeine, feel free to use the caffeinated version. Both will taste swell.
Larabars are so versatile with the date and nut base and I appreciate these energy bars because they are a wonderful source of raw energy. So simple and few ingredients too! I enjoy eating these as a snack throughout the day or whenever I'm in the mood for something sweet.
Ingredients:
1/2 cup almonds
1/2 cup walnuts
1 1/4 cup (packed) dates
3 tbsp unsweetened cocoa
1 tsp instant coffee
1.5 tsp vanilla extract
1/4 cup chocolate chips
Preparation:
Add nuts and dates into food processor and blend well. Then add in the cocoa, coffee, vanilla, and chocolate chips and blend a bit more until all the ingredients are mixed, chopped up, and the texture is moldable.
Form into whatever shapes you'd like! I found that making balls out of tablespoon measures are the easiest for me. (Also the easiest to eat ;) )
Store these in a sealed container in the fridge. They will last for quite a while, unless you're like myself and devour these within the first few days.
I must suggest to have a bit of patience as these get better with age! After storing them in the fridge for a few hours, the flavors fuse so well! They get even more addicting after a day or two, so hands off for a bit folks.
Some other healthy vegan snacks include: